Abstract
Selecting the proper HDMI cable can be a challenging problem in today's environment of Internet sales, with sites such as Alibaba opening up access to suppliers in the Far East that may not be as scrupulous as they purport to be. The wary buyer must now become technically aware of standards and specifications in order to decipher datasheets and documentation, so that informed decisions can be made prior to purchasing HDMI cables; cables that will be fit for use and not disappoint end customers.
Standards
The HDMI forum is comprised of the manufacturers of consumer electronics, mobile devices, cables, and components. It is considered to be an open trade association. The standards that are currently released and under consideration are:
HDMI 1.4 – this is considered to be a fully released version that the majority of cables are built to, for devices that do or do not require Ethernet over HDMI, nor reverse audio capability. The effective bandwidth limit for 1.4 compliant cables is 10.2 Gbps.
HDMI 2.0 – this specification defines a new, more efficient signaling method to allow higher bandwidth (18Gbps) over existing High Speed Wire Cables (it does not change the wiring or pinout from 1.4), and will increase resolution support to 4K@50/60 (2160P), as well as provide up to 32 audio channels and expanded CEC extensions.
HDMI 2.0b – this specification enables transmission of High Dynamic Range (HDR) video, simultaneous multi-stream audio for up to 4 users (reverse audio), and is currently under committee review.
Cable construction and Pinouts
There are five types of HDMI cable products sanctioned by the current revision of the HDMI standard (2.0), and this has not changed since 1.4 was released.
Standard HDMI Cable
Standard HDMI Cable with Ethernet
Automotive HDMI Cable (same as standard HDMI except with enhanced temperature/humidity range)
High Speed HDMI Cable
High Speed HDMI Cable with Ethernet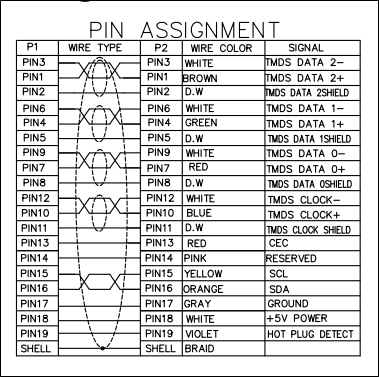 Figure 1 – HDMI standard cable/pin assignment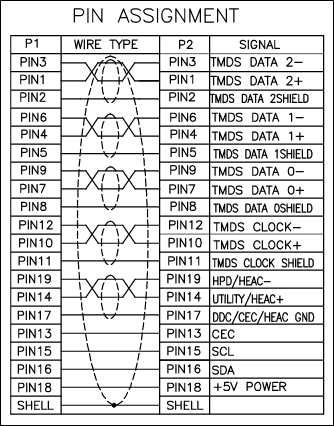 Figure 2 – HDMI w/Ethernet cable/pin assignment
HDMI cables with Ethernet must have device support on both the source side and sink side – this is generally reserved for very high end set-top boxes and television sets. As of the writing of this document, no manufacturer offers this type of functionality in either a source or a television. The HEAC (HDMI Ethernet Channel) is also used for reverse audio capability – to send audio from the sink back to the source for distribution to other devices.
Both the HDMI and HDMI/Ethernet cables support all basic video/audio functionality contained in the 1.4 specification, the HDMI/Ethernet cable is slightly higher cost and provides forward compatibility should it be desired.
All HDMI Premium Certified cables manufactured to 2.0 specification MUST contain HEAC capability.
There are two categories of HDMI cables
Category 1, tested at 74.5 MHz, resolutions 720P/60 and 1080i/60
Category 2, tested at 340 MHz, resolutions 1080P/60 and 2160P/30 (also known as High Speed)
There are five sanctioned HDMI connectors
Type A – standard male plug for cables, 19 pins
Type B – enhanced male plug for cables, 29 pins, carrying six differential pairs instead of three
Type C – Mini connector, for mobile devices, 19 pins
Type D – Micro connector, even smaller, 19 pins
Type E – Automotive connector, with locking tab
Overwhelmingly, the consumer electronics market uses the Type A male connector, referred to as A/M.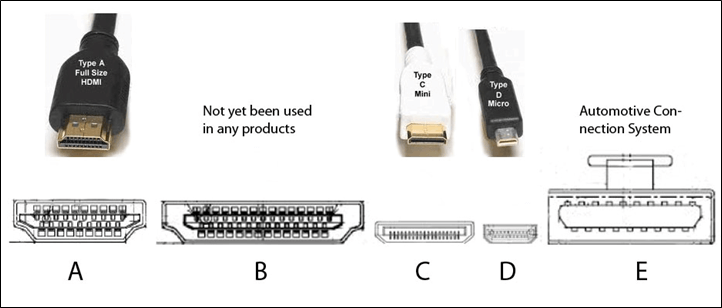 Figure 3 – HDMI Connector Styles
Certified Premium Cables
HDMI standard allows for the marketing and sale of cables that are Certified Premium. These are cables that are submitted to an accredited lab, licensed by HDMI, and found to pass all tests. When cables pass these tests, a test report is placed on file with HDMI, and the manufacturer of the cable is allowed to place the "HDMI Certified Premium" label on the cable and the packaging. The cable may also be printed as HDMI Certified Premium. Note that there may be no physical difference between a correctly-built and tested High Speed HDMI cable and an HDMI Certified Premium cable, and no test or performance difference.
Wire considerations
The cable used in construction of HDMI cables is almost always UL style 20276. This is a low-voltage (<30VAC), multi-conductor cable with extruded non-integral jacket of PVC.
The conductor size of the cable will determine the cables suitability for use at varying lengths. Generally, the longer the length of the cable, the larger conductor size required in order to pass all certification tests. AWG32 is considered to be an industry minimum for even short cables, although some unscrupulous manufacturers will use conductors as small as AWG34 on short cables, which while they may not pass testing may actually support low resolution video and be accepted by some consumers. Conductors are always tinned copper, while braid is generally an aluminum-magnesium alloy wire mesh.
Insulation jackets can vary from PE (polyethylene) to PP (polypropylene), as can filler materials. Fillers are used to fill voids in the internal wire stackup in order to retain the round look of a cable.
Cable callout
Cable callout is in the formula of (1P*28#+AL+D+MY)*4C+(1P+5C)*28#+AL+MY+B
Where "28" is the AWG gauge of the tinned copper conductor. This size can vary as in above section.
First, (1P*28#+AL+D+MY)*4C
Which is to say "One Pair is AWG28 with Aluminum Spiral Shield, Drain Wire, and Mylar outer; and this is multiplied by 4 count"……… Some people use MY instead of spelling out Mylar.
Then, (1P+5C)*28# +AL+MY+B
Which is to say "One Pair plus 5 Count of AWG28, with aluminum spiral shield and Braid outer.
Put it all together and it is:
(1P*28#+AL+D+MY)*4C+(1P+5C)*28#+AL+MY+B
The reason it is 1P+5C is that you have that one set of twisted pair you are using for the I2C interface or the HEAC interface. So that makes "one twisted pair" plus 5 Count (or 5 conductor) for the remaining wires.
Compliance Issues
RoHs directive 2011/65/eu should be called out by manufacturer on drawing. This relates to lead, hexavalent chromium, and a host of other banned hazardous substances in the product.
REACH compliance should be called out on manufacturer on drawing. This relates to outgassing/leakage of banned substances and liquid chemicals. Not usually a problem in cables, but product should be compliant.
Conflict Mineral compliance should be called out by manufacturer on drawing. This relates to materials such as 3TG (Tin, Tungsten, Tantalum, and Gold) which may have been sourced from the DRC (Democratic Republic of Congo) where forced labor is used to staff mining operations, or other world regions declared to be interdicted from a mineral sourcing perspective.
UL compliance should be printed on cable outer jacket.
CSA compliance, if required, should be printed on cable outer jacket.
Recommendations for minimum cable quality:
Minimum AWG wire size in any length cable: AWG32
Freeport HDMI Cable Limited Length Sheet

Raw cable Spec
Resolution
1920*1080P
4K*2K@30Hz
4K*2K@60Hz
32AWG
Tinned Copper
3m
2m
1m
30AWG
Tinned Copper
4m
2.5m
1.8m
28AWG
Tinned Copper
5m
3.5m

2.5m
Minimum bend radius of cable, typically communicated as the shipping configuration cable loop size, which will be proportional to the overall diameter of the cable; and which must match the product packaging needs.
Specification as to Category of cable to be supplied, and whether or not Certified Premium is required.
Labeling: A heat shrink label, black text on white background, which states the part number and revision of the cable, as well as the supplier abbreviation and a date code such as WW/YY (work week and year).
Cable jacket printing should be required to show UL efile number of manufacturer, whether or not cable is High Speed, AWM/UL cable style, temperature and voltage as well as flame rating.

Figure 4 – example of cable jacket printing
Cable does not need to support Ethernet until such time as the end product supports the features. Note that Certified Premium cables will, by default, be HDMI w/Ethernet wiring format.
Shielding construction should be specified.
Manufacturer should supply test report for assembled cable, minimum of 5 marked samples, to be in compliance with published test standards for HDMI 2.0 (or currently published and ratified standard)
47 CFR Part 15 radiated emissions testing requirement for cable may be required, but requirement must be accompanied by a documented test setup which will include
Specific model and type of signal source.
Specific model and type of power supply used to power source from AC mains.
Specify Streaming source (Internet connection, local server, etc.).
Specific Upstream connection to data input (streaming source – Ethernet, WiFi, USB, etc.).
File containing streaming source, or specification for streaming source.
Specific model and type of signal sink television set.
Method of attachment of television to AC mains.
Diagram of allowable connections to earth ground for all equipment.
Base scan of powered source in standalone configuration (no signal cable protruding).
Base scan of powered sink in standalone configuration.
Final scan of entire system of source-cable-sink.
Requirement to pass Class B with 2dB of margin across all frequencies.